Wolverhampton Black History Month Launch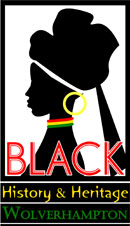 This year Black History Month will be launched at the Arena Theatre. At this year's Launch you will have an opportunity to view Wolverhampton's Black history website: blackhistoryandheritage.com
Friday 30th September 2016
Organisers of Black History Month activities will be on hand with stalls and display. Find out more about upcoming events by picking up a copy the Black History Month programme.
Wolverhampton Black History Month Launch
Time: 7.00pm – 9.00pm
Cost: Free
Venue: Heritage Centre, Clifford Street, Wolverhampton WV6 0AA.
Disabled Access: Yes
Open to Public: Yes
For further information contact David Bennett on 07806 461 828
Organiser: Black History Month Events Group,
Black Local History & Cultural Archives Project, 24 Cosgrove Walk, Wolverhampton WV8 1YD.