Annual Gala Dinner Dance Awards Presentation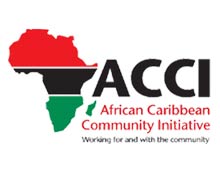 World Mental Health Day
Organiser:
ACCI Admin office: 217 Waterloo Terrace, Newhampton Road East, Wolverhampton, WV1 4BA.
Sunday 16 October 2016
An annual event hosted by African Caribbean Community Initiative (ACCI) at the Jubilee Christian Centre, with the overall objective of raising awareness of mental health issues. The day also provides an opportunity for service users to share their journey from mental ill health.
Three-course Caribbean meal will be served.
World Mental Health Day
Sunday 16 October 2016
Jubilee Christian Centre, 121 Merridale Street, Graiseley, Wolverhampton, WV3 0RE.
Time: 11.00am
Cost: Caribbean meal: £4.00 Adults
£2.00 Children aged 3-10 year
Disabled Access: Yes
Open to Public: Yes

Caribbean meal will be served at: The Heritage Centre, Clifford Street, Wolverhampton WV6 0AA.

For further information contact Thess Gordon: 01902 571230.
Website : www.acci.org.uk